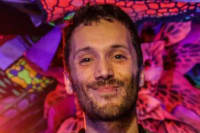 Lunatica
Spain
---
Lunatica is the blasting psychedelic psytrance project from Miguel Solans also known as Lupin by his progressive project!

After producing for years under Lupin project, Miguel decided to take it to level further by forming the Lunatica project. Lunatica is all about pushing boundaries between styles & its sound can be described as a fine balance between daytime full on and night time psychedelic driving music.

Lunatica has arrived now to swipe the dancefloor away by monstrous maddening liquid sounds !