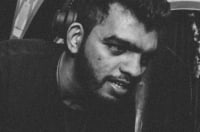 Gurudev
India
---
God is present as the superhuman element in the human individual, and minus that, the human individuality vanishes into an airy nothing. The root of our personality is God himself and the root of anything, for that matter is "The Being." The gods in heaven, the angels in all the superior realms, all human beings, everything created in this Universe, all objects and all subjects, everything blended together gives us a picture of the supreme unity of good hood. We have a superhuman element within us, as this is the deepest "Adhthaytma" or "Gurudev" in us. That is God present within us.

Thus the moniker "Gurudev"



Started dj-ing in the year 2009, his love for psychedelic music and the association of it with a higher perspective with spiritual knowledge, is what made him immerse himself in the world of "Psychedelic Trance." Apart from his music skills, he was also in search for something radically different, and co-formed a décor company called " Sangachadwam" in the year 2012,along with his friends. They have organized the décor for some of the most memorable, indoor and outdoor parties, across India. He wanted to showcase his love for art and not just music.



Gurudev's style ranges from progressive to full-on psytrance. His energy behind the decks is simply splendid; his enthusiasm for psy-trance music remains instrumental in the development of the scene.

He has a great nature of love & lives upon beliefs and values, which spread love, happiness and peace to this world. A nature lover and all finer things of life and beauties of nature is an inspiration to him. He is happy grooving or carving up the main room with his art and music. He continues to push musical styles wherever he plays creating a mix that never fails to leave people locked in the groove. Gurudev's music is a progression, an evolution into where the Psychedelic Trance was already in and the boundaries it continues to conquer.




https://www.facebook.com/pages/GuruDev/754266801317368